Musician/Sideman/Artist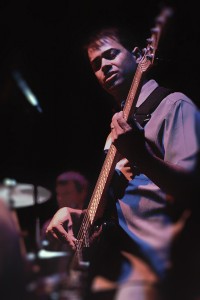 Freelance bassist, Jairaj ("j-raj") Swann, born in Augusta, Georgia in the early '70's, his exposure to southern R&B, soul and funk, and later introduction to jazz and blues helped to develop his original and unique voice on his instrument.
Based out of Atlanta, GA, he has been active on the music scene performing with a variety groups/bands/artists including Coy Bowles (Zac Brown Band), Michael Levine, Superfecta, The Subject, and the Jake Sharp Band. Jairaj cites his strongest musical influences as Anthony Jackson, James Jamerson, Pino Palladino, Donald "Duck" Dunn and Jaco Pastorius.
Jairaj is available for live performance, studio recording and private instruction, in the Atlanta or online through FaceTime/Skype/Google Hangouts.